Regular price
$489.00 USD
Regular price
$1,049.00 USD
Sale price
$489.00 USD
Unit price
per
Sale
Call For Details
Large Capacity Top Load Washer. Effortlessly handles family-size loads, saving time and resources.
Glass Look-Through Lid. A transparent glass lid with a safe-close design lets you keep an eye on the action.
8 Pre-Set Wash Cycles. Comes with multiple dynamic pre-set cycles designed for maximized cleaning.
Share
*FREE Local Delivery - Only applies to brand new items over $1000. All Close-out and All Scratch & Dent as well as new items under $1000 will have a $60 local delivery fee to each individual delivery address.If one item qualifies for FREE delivery then the entire order will qualify if going to the same address. ALL deliveries qualify for FREE Haul-away. Additional charges may still apply to all orders depending on circumstances.
View full details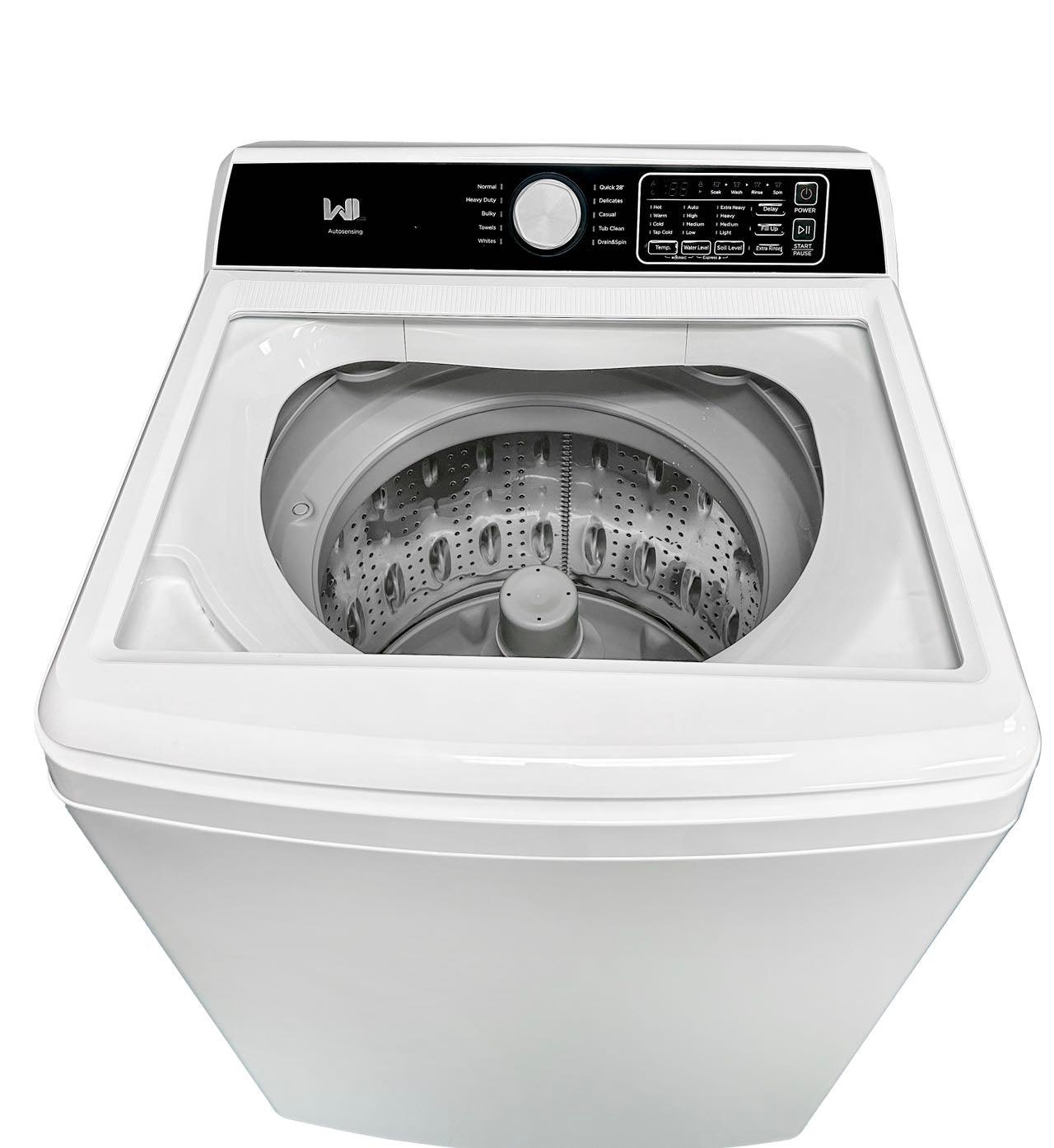 he Washer WITH agitator AND Water Plus AND Quick Wash?
Ever since we bought our first he washer, we were disappointed in the lack of an agitator, and often felt like there wasn't enough water in the machine to wash certain loads. This washer is amazing! It has the agitator we had missed so much, AND at the touch of a button, it'll add some extra water (with the Water Plus feature). We're also really in love with the Quick Wash option—it's ended up being our most frequently used wash setting. Finally, the washer is HUGE and we haven't found a load too large for it.
My Clothes Have Never Been Cleaner!
I love love LOVE my WL Washer!! It is by far the BEST washer I have ever had or used! It is a top quality, truly amazing appliance with great features that has made my life soooooo much easier. Simply put a washer is supposed to clean your clothes and this Midea washer goes above and beyond doing that. I swear my clothes are actually cleaner and fresher smelling than they ever got with any other washer. This is especially noticeable with my whites. They look brand new and I didn't even have to use bleach or anything special to get them as white as they are. It just does an amazing job cleaning clothes or whatever items you need to wash. I've found I really don't even need to presoak or scrub stains before washing them the way I used to have to do with other washers. Aside from being so pleased at how great it is at washing stuff, I also love the different options you can choose for each load. You can make the cycle specific to what you're washing by being able to choose different preset options such as colors, whites, bulky/sheets, heavy duty, delicates, etc. And of course you can choose the temperature such as cold, warm, eco warm, or hot, but you can also choose the soil level depending on how dirty your items are and the spin level for how fast you want it to spin the water out of the clothing so you can make it slower for a gentler wash cycle. You can even save your favorite or most used cycle combination so that you can set the washer for that specific mode with the push of one button. And a bonus thing my previous washer didn't have is that this one has a pause button so that if I need to add something or take an item out I can just pause the cycle, open the lid, do what I need to do, close the lid and restart the cycle. I also love the size of the drum. It's huge and deep. The washer can hold a surprisingly large amount of clothing/items without being overloaded. This makes it easy to wash something like a comforter that I used to have to take to the laundry mat to wash. And I'm amazed at the spinning capabilities. Somehow this washer is able to spin your items fast and hard enough that they are barely wet when you take them out but even with that fast and strong spinning the washer isn't rough on items; in face it still treats them gently. I'm honestly kind of shocked by that. And it has really cut down on how long I have to dry my clothing in the dryer or for items that can't be put in a dryer they still seem to get dry from hang-drying extremely fast! Another thing I love about my washer is something simple and something I never really thought about when picking out a washer. I really like how easy it is to put in detergent and fabric softener. You simply pull out the drawer inside the drum, put the detergent/softener in the corresponding section, and then just close the drawer. You just have to make sure you push the button that says you're using fabric softener when choosing your wash cycle features tho. But to be honest I've used fabric softener and forgot to push that button and I didn't really notice a difference. Another added feature that is nice to have is the safety lock. You can push a certain combination of buttons and it will lock the lid and prevent a wash cycle from starting until another button combination is pushed to turn off the lock. I've never thought about a washer being something I needed to be concerned with my children messing with and hurting themselves, but I'm guessing it has been something dangerous for some people so I do like that there is the option to turn on a safety feature like this. It also has sensors that detect if something is wrong such as the machine not being level and when it notices an issue it will stop the cycle and show a code on the screen that tells you specifically what is wrong. Finally the last thing I really like is that the lid is clear. For some reason I really love being able to see inside the washer while it's operating. My cat probably enjoys the transparent lid even more than me as she is always sitting on the lid while it's washing, watching the water and clothing move around lol. So basically this washer is fabulous! It works and cleans your clothes, towels, and any other items amazingly well. It has so many options to choose so you can wash each load the best way possible for those specific items. And the look of it is just awesome! I definitely would recommend anyone looking for a new washer to get one like this from Midea, you won't be disappointed!!
I would buy this product again.
I like the look and how it washes. The sensor cycles work great.
maybe too tall
So keeping in mind the price was one of the better ones at the time. I love the large capacity because i can easily wash blankets. It cleans my laundry quite well and lots of settings to choose from. Now for the reality that Im 5'5"….i can not reach to the bottom to get rhings out once the wash is finished. Laugh if you will but I simply keep some tongs handy and grab things right out. The only other issue I would say I have is that its just stupid noisy! Just dont start a load and expect to take a nap or watch a movie if the unit is close by lol. Overall im happy!!
Great washer with the bells and whistle
This is a great washer with the bells and whistles that I like at a low price! The reason that I give it 4 stars instead of 5 stars is due to the height and depth. It allows for a lot of laundry to be put in, however, it is hard to get all of the laundry on the bottom out of the tub. I had to build a step for my wife and I to get down in there without falling in. This would be fine for someone 6 feet and taller. Just know that you will need a step stool for assistance.